Pupil progress
Accurate and on-going assessment is fundamental to the setting of challenging targets and creating stimulating opportunities for learning. At Manor School, we use a range of assessment tools in order to track and measure progress over time; we refer to this as our "Basket of Indicators." You will find a brief description of the main assessment tools used at Manor School in the paragraphs below.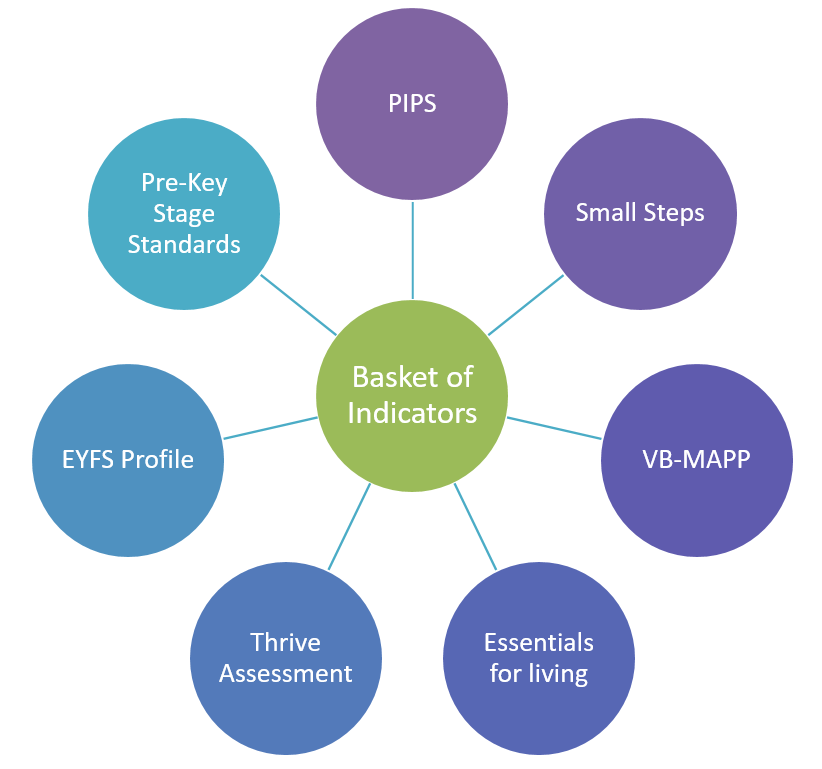 Personalised Intervention Plans (PIPs):
Every pupil at Manor School has an Education, Health and Care Plan (EHCP). Section A details a family's aspirations for their child and Section E lists medium-term outcomes which are designed to act as "stepping stones" towards realising the identified long-term goals. In Brent, Section E Outcomes are agreed under four headings. These being:
Communication & Interaction
Cognition & Learning
Social, Emotional & Mental Health
Sensory & Physical
It's a school's responsibility to set short-term targets. At Manor School, multi- disciplinary teams work together and liaise with families in order to agree highly individualised Personalised Intervention Plan (PIP) targets. PIP targets are written on a half-termly basis and shared with parents and carers so that learning can be supported at home. Progress towards PIP targets is closely monitored by teachers, middle leaders and senior leaders. Data is used to identify which pupils would benefit most from additional support or enhanced interventions.
Small Steps assessment system: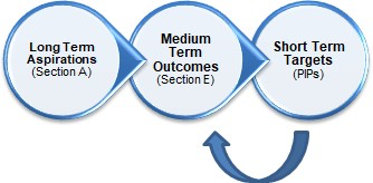 Small Steps was developed to enable practitioners to track and measure pupil development and progress systematically. Teachers record achievement and progress both formatively and summatively.
Small Steps is made up of developmental 'I can… statements' which are grouped into levels called 'B levels.'
B1-B4 is the generic pre-subject specific area of the system. It enables teachers to assess pupils' participation, engagement and preferences in relation to a wide a range of experiences. B1-B4 focuses on supporting pupils to develop the pre-requisite skills that will enable them to access subject specific learning within our differentiated curriculum.
Pupils working Post B4 are able to access a differentiated curriculum. Small Steps covers a number of curriculum strands and pupils are assessed in the following areas:
Speaking
Listening
Reading
Phonics
Writing
Number
Geometry & Measure
PSHE
Computing Science
Pupils who are working Post B4 engage with a wide range of planned experiences that build upon previous learning in a structured and practical manner. Pupils have opportunities to apply skills and experience in different ways, in both abstract and real life contexts; this enables them to build appropriate skills for future learning and adulthood. The system was devised by a range of professionals (teachers, therapists and behaviour specialists) and has been exceptionally well received. Several schools, both locally and nationally, are now using Small Steps to systematically and effectively track the progress of learners with SEND.
Early Years Foundation Stage (EYFS) Profile:
The EYFS profile is a summary of a child's attainment at the end of Reception. The profile measures a child's attainment in 17 areas of learning, known as Early Learning Goals (ELGs). These are: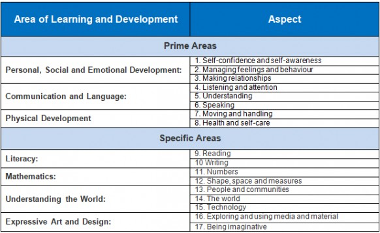 Pre-Key Stage Standards: The Pre-Key Stage Standards are used to assess pupils who are working below the overall standard of national curriculum assessments, but who are engaged in subject-specific study. The Pre-Key Stage Standards focus on certain key aspects of English reading, English writing and mathematics for the specific purpose of statutory end-of-key stage assessment. The standards are not a formative assessment tool and they are not used to track progress throughout the key stage or to guide individual programmes of study, classroom practice or methodology.
External reporting:
Manor School complies with all DfE statutory reporting guidance and reports externally as follows:
The Early Years Foundation Stage Profile (EYFSP) is used in Reception to report on attainment in relation to the Early Learning Goals (ELGs).
Pre-Key Stage Standards 1 to 4 are used to report assessment outcomes for pupils in Key Stage 1 who are working below the standard of national curriculum assessments. Any pupil in KS1 working above Pre-Key Stage Standard 4 will be assessed using the Standards and Testing Agency guidance for KS1.
Pre-Key Stage Standards 1 to 6 are used to report assessment outcomes for pupils in Key Stage 2 who are working below the standard of national curriculum assessments. Any pupil in KS2 working above Pre-Key Stage Standard 6 will be assessed using the Standards and Testing Agency guidance for KS2.
A small percentage of pupils are put forward for the Phonics screening check each year. The check is typically carried out in Year 2.
The DFE School performance table for Manor School can be found here
Pupil Premium
Manor School is awarded Pupil Premium to be used to target improvement in very specific areas for a caseload of pupils on free school meals who have been identified as needing additional support in order to make progress in their language & communication skills and sensory needs.
Analysis of our data demonstrates that all of our pupils are making at least good progress and the vast majority of pupils excellent progress. Details of how we have used our pupil premium and the impact it has had can be found in the 'Pupil progress file area' below.